Welcome to my links page. This page serves both Warship Models Underway and SeaPhoto Maritime Photography. If you have a link to suggest, by all means email me. Thank you!

SeaPhoto is my company, and is the proud sponsor of Warship Models Underway.
Loyalhanna Dockyard supports Warship Models Underway through Advertising Banners:

We supply hull, fittings, complete kits, flags, running gear, motors, radios, speed controls, custom and technical support services. We have Caldercraft, Slipway, Metcalf, Kingston Mouldings, Microglass, Mount fleet models, Ocean Voyage, Radestock, Cheddar Steam Plants and Deans Marine is now coming on board in the very near future. We are Sirmar's sole U.S. Distributor and Fleetscale also. We have a 250 page illustrated catalog and offer over 300 different boats and kits. We also have informational sections and fittings listings along with BECC flags.





The good folks behind Homeport models bring you an all new site, focusing on digital developement of highly detailed parts for model ships. They can send you parts created on their high tech 3D printers, or for those already in posession of that technology, they will sell you the files to print your own parts. You can now have the parts you need to build you models in a matter of hours!


Homeport models makes Laser Cut Superstructure kits, 3D printed parts, hulls and more that can be used to dramatically reduce your building time - be sure to check them out. They also sell completed models from time to time.


This is my brother's company - give him a try!
IMPORTANT NOTE: For the most part, these links are simply people I know, or have purchased from. Where I do have a business relationship, I will clearly state that.
I have divided this page into the following sections:
Large Scale Model Warship Suppliers
Online sources for complete kits
Plans, photos and other references
Electronics for radio control model
Services for the model warship builder
Tools for building model ships
Personal Site and How to pages
Model Clubs for large scale warships
Radio Control Scale Submarines
Online sources for research information
Sites for smaller scale models
---
Large Scale Model Warship Suppliers - people who make the hulls and parts for large scale radio control ship models

The world's premier supplier of fiberglass hulls and detail parts, you will be seeing a lot of this companies products displayed as this site develops. Offers hulls ranging from small tugboats to giant Nimitz class carriers in 1/96 scale. Their Iowa class hull and fittings kit is very popular, as are their Fletcher, Gearing, Baltimore, and Aegis cruisers and destroyer offerings. Lots of Kriegsmarine units, and Yamato too. Check them out!

Loren Perry influenced many warship modelers in the early and mid 1980's both with his models and through his job as editor of Scale Ship Modeler. Unfortunately he has dropped all his 1/96 scale products, but still is a great source for 1/200 and smaller details if you build those small critters <grin>
Back to top.
---
Sources for complete kits, as well as parts

3D boats - using new print on demand technology, this company offers it's parts through Shapeways. Has weapons and other details for the modern US and Royal Navies, as well as other periods.

Bill's Models - Shapeways shop that has 1/96 parts, including a hedgehog, cruiser catapult and more.


Dean's Marine - A highly successful manufacturer of warship kits in 1/96 scale, among others. They have an emphasis on English subjects - see the magnificent Dreadnought model they make - , but also offer models for other countries - for example, a Fletcher class destroyer, and a German Type 1936 destroyer that sure looks pretty in the pictures! (Hey, I am thinking ahead to when I get that Scharnhorst or Gneisenau model done some day...it would be nice to have an escort for her!). Available in the US from Loyalhanna Dockyard, among others.


diStefan Ship Models - a Shapeways shop with many scale fittings

Eel River Model Boats - a Shapeways shop with many scale fittings

Fleetscale - makes an extensive line of 1/128th scale fiberglass warship semi-kits. If you have to build a battleship, but cannot fit a 1/96 scale model in your living room, this could be a good option. Their semi-kits tend to be more complete than US equivalents, and require less scratch building. They also offer a semi kit for a 1/96 scale Yamato, USS Olympia (cruiser), 1/72 scale modern British warships, 1/48 scale Flower class corvettes and more.

The Floating Drydock - while more widely known as a premier source of plans and photos, they carry a number of fittings for US Warships - lines included John Haynes, J&D, HR and some imported items such as stud link anchor change and photo etched stanchions.

Hasse Schiffsmodellbau - sells hulls and fittings for the World War II Kriegsmarine, the post war German Navy, and a variety of civilian subjects - note German Language site.

Homeport Models on Shapeways - 1/96 scale parts for warships - checkout their printed masts for Perry and Burke classes.


HR Products - manufacturer of metal fittings for ship models in a variety of scales - lots of 1/96 scale and larger fittings.

John Haynes - Makes very nice fittings for US and other ships, carried in the US by The Floating Drydock. Also builds models on commission - see below. A partial list of his fittings can be found here.

Masterpieces in Miniature Supplies 1/96 and 1/192 scale photo etched brass detail parts of a very high standard.


Model Monkey - Steve Larsen's Shapeway shop, has turrets, entire bridge sets for destroyers, all sorts of goodies.


Modellbau Andreas Lassek - high quality hulls, parts and kits for mainly World War II German Navy, with some World War I and modern offerings as well.

Scalewarship - source for 1/96, 1/72 and other scale detail parts; has announced a 1/72 scale Fletcher hull in the near future.

G Sitek Scale Propellers took over the E. Radestock line of finely made scale propellers - very nice workmanship.

Strike Models - supplies of 1/144 scale hulls and components to the r/c combat hobby. As of 2021, they have closed, but they may resume offering plans in the future

Tom's Modelworks - 1/96 and 1/192 photoetched parts for US Warships

West Coast Warship Services - Joe Hanacheck has made hulls and other patterns for many model ship companies - now he can apply that expertise to your custom project. He can build a hull, in the scale of your choice, along with superstructure components as needed. He sells a 1/48th scale Sims class destroyer, 1/72 scale Oliver Hazard Perry class frigate, 1/96 scale Casablanca class carrier, a superstructure for Scale Shipyard's 1/48th scale Fleet Tug,, with many others coming in the near future. Joe also offers a lake ready service, where he will take a hull and install the electronics and running gear to get it read to run. Joe doesn't have a website, but can be contacted at westcoastwarshipservices@gmail.com

If you know of any other manufacturers, please email me.

Back to top.
---
Online sources for complete kits

Cornwall Model Boats - sells UK based kits and supplies, along with many other. A source for plans, including John Lambert ship's warship plans.

Loyalhanna Dockyard- sells Dean's Marine, other warship kits. Also has the Taubman plans collection, which has large numbers of warship plans. I no longer have any financial connection with them.
Back to top.
---
Sources for plans, photos and other reference
SeaPhoto - Why not plug my own company? I have many onboard, overhead and pier side views of modern US Navy ships, organized into sets. If you want to go nuts detailing a model, I can give you the ammunition for an awful lot of ship classes.
The Floating Drydock - has nice black and white photographs of World War II era US Warships at a very reasonable price. Of course, they are also well known as a source for plans and other information. If you are building an American warship of the 20th Century, you should visit this site. Also carries John Haynes fittings, Gold Medal Models Decals, stub link anchor chain from Germany, and many other useful items for the warship builder.
Duane Curtis has a small but growing range of modern US Navy plans which are not available elsewhere; you can reach him by email and request a list.
Taubman's Plan Service. World's largest inventory of ship plans.
Maryland Silver Company - this is a good source for plans of the Civil War and Steel Navy era's., as well as some World War II and later subjects. This company has some real goodies if you poke around their site a bit.
Snyder and Short Enterprises "The Paint Guys" Snyder and Short Enterprises is the only manufacturer of naval paint chip sets for the ship modeler. If you are looking for accurate World War II colors, this is the place. The site also hosts -
John Sheridan's USN Warship Camouflage website. An excellent place to get information on painting your World War II US warship - with detailed information on the various measures used on all manner of vessels.
Naval Profile Art Prints by George Bisharat - George is a buddy of mine, and produces nice "profile style" prints of many ships in the US Navy. I have several of these and they make fine decorations for your workshop or study. Check them out!
Photos from the Welland Canal - Jeff Cameron maintains a huge archive of photos he has taken of Great Lakes shipping, including warships. There are good shots online, and larger prints can be purchased as well.
Back to top.
---
Electronic components for radio control
EA Electronics - Sells speed controls, motors, BEC, and a neat signal lamp flasher for model boats which I am installing in my John Paul Jones.
FMA Direct - makes very small radio receivers and other electronics for r/c.
Mtroniks - makes very nice speed control - based in England, available in the US from CNC Models and Loyalhanna Dockyard .
Loyalhanna Dockyard - many different kinds of electronics for the model ship builder.
Servo City - servos, electronics, custom gears - a fantastic place to get animation ideas too.
Vantec - makers of speed controls and keypad control add-on's for r/c equipment, also 8 channel surface frequency radios.
Back to top.
---
Hawk Graphics - Makes Model ship decals from 1/2400 to 1/72
Back to top.
---
Services for the model builder
Laser-4-U - A midwest shop that will laser cut plastic to a computer file. Prices seemed reasonable - might be the way to go for complex flat parts.
J-Display Case We offer professional grade acrylic display cases model covers and custom fabrication.
Back to top.
Alumilite - Sells RTV rubber for molds and two part casting resin for making your own parts.
Evercoat - makes catalyzed body putty, body fillers, as well as Plastic Honey, a thinner for these materials.
Evergreen Scale Models - Where would I be without this company? Chopping a lot of plastic, no doubt about that! Makes strip plastic in a variety of thicknesses and widths. Also carries sheet goods, and has added shapes, such as angles and I-Beams. An invaluable resource to the modeler.
Interstate Plastics - online and retail seller of plastics, including an expanded PVC sheet called which is similar to Sintra.
iPlastics.com - online source for sheet and rod plastic.
K and S Engineering - Metal supplier to the model. Makes telescoping brass tubing, as well as a variety of special shapes. Also be sure to check out the company's off shoot - Special Shapes - for thinwall tubing, photoetched grid, and, well, special shapes!
K & J Magnetics - online source for rare earth magnets - these very strong magnets are useful for linkages, hatch closures and more.
Micro fasteners - for small screws and nuts
Northeastern Scale Lumber - makes precision scale lumber, and sheets of deck planking in 22" long X 3" premade planks.
Plastruct - makes ABS and Styrene plastic sheet, shapes and parts. Also has 1:100 scale figures.
SABIC Polymershapes- online source for a variety of sheet goods, such as plexiglass, lexan, polystyrene and Sintra. Also sells cast acrylic rod, good for machining. The site is a bit complicated to navigate, but take your time and you will find what you are looking for. You can order with your credit card at this site.
Woodland Scenics - makers of railroad detail products. Of particular interest to US Navy modelers is try transfer set MG 739 (Black) and MG 740 (White). These are good for lettering the names of ships on the stern of your model - they have the correct 45º angle at the corners of the letter.
Back to top.
---
Tools for building model ships
Byrnes Miniature Machines - makes a great miniature table saw for the modeler.
Guy Lautard - Folks often ask me how I learned to use a lathe and other machine tools. Well, I am self taught, by reading a lot and experimenting even more. Guy Lautard's Machinist Bedside Readers were an enjoyable part of my education, and I highly recommend his website, line of books and instructional pamphlets to anyone interested in learning the art of machining.
Micro Mark - sells all manner of hobby tools. Prices are generally reasonable, but you can sometime save on higher ticket items by shopping or waiting for a sale. They have a free catalog which is very worthwhile. Good customer service too.
The Model Expo - not as large a selection as Micro Mark, but often has very good prices, particularly on airbrushes. Worth comparing the two sites.
Sherline Tools - Makers of small, well built Lathes and Milling Machines. I have one each of these, purchased used in 1985 and kept busy since. They are nicely made, sturdy, and have many useful accessories available. A necessity for the scratchbuilder.
Victorinox - the makers of the Swiss Army Knife. Not really a model ship link, but what the heck. Who doesn't like a Swiss Army Knife?
To make large scale models, you often need large scale tools. I have done business with Tool Crib of the North (Now a part of Amazon.com) for years, and have very good service with them. My bandsaw, sander and many other tools came from them. Important Note: I receive a small commission on tools (or anything else) ordered through this link.
Back to top.
---
Personal Sites and How-to pages
Model Marina - Roger is building a USS Ticonderoga (CG-47) , among other projects. Nicely laid out site, with good reviews of the materials, and in some cases, kits that he uses.
Build the SMS Pommern in 1/100 scale - Tony is scratchbuilding this World War I German Battleship, and documenting the construction quite thoroughly. Check in from time to time for updates.
Twenty First Century Models - Robert Okerholm builds museum quality 1/96 scale models for both R/C and static display. Be sure to check out the sample photographs of the great modern US Navy warships he has constructed.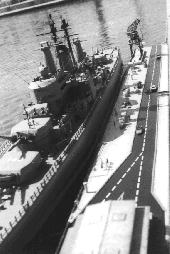 A model ship pier An interesting page, showing details of a pier this modeler made for his radio control warship
Victoria Model Shipbuilding Society - nice club site, with a very good selection of tips on the appropriately named "tips" page. Well worth a look, some nice info on working with CA, fiberglass, and acrylic for superstructures, among other topics.
Modelismonaval.com Massive link site all directed to the model ship maker. Available in many different languages, just click on the small British flag for English. Well worth a browse!
The German Navy in World War I - a site by Thomas Tanner that gives information on both the 1:1 scale High Seas Fleet, but also a fine page of model photos in various scales of some great warship models.
German Navy Models- A very nice site with some great models of Kriegsmarine ships - including a 1/20 scale model of the Graf Spee. Be sure to check out the main site here, with a lot of information on the Bismarck and Tirpitz. Site by John Asmussen.
Back to top.
---
Model Clubs for large scale warships
Note: If folks in the North Sacramento Area would like to get together for the occasional fun run email me.
If you live in the Los Angeles Area, check with Lee Upshaw for Task Force 96 fun runs. You can email Lee here.
If you live in the San Diego Area, contact Dave Manley for the scheduled runs of the 8th Fleet. You can reach Dave here.
Task Force 100 a New Jersey based club with a nice web site.
Task Force 72 is an Australian group that has an extensive web site.
Task Force 50 , based in York, Pennsylvania. They are a constant scale club building primarily ships from the WWII era, and should have a web site soon.
The Elite Fleet of Virginia Beach is a scale electric boat club that meets every Sunday at Mt. Trashmore Lake. Currently we have around 40 active members and over 50 boats. The different types of boats vary from military craft to civilian, and from kits to scratch built, even a few sea plains. The sizes range anywhere between 9 inches to 9 feet long.
Mini Marine International - A club based in the Netherlands with an extensive site. Radio control model warship photos, how to's, and a trading board.
Back to top.


---
---

The Scale Ship Modelers Association of North America, Inc., (SSMA) is a nonprofit organization founded in 1988. Our purpose is to promote the hobby of radio control and static ship modeling.
Marine Modelers Club of New England - Nice website with some great pictures. Strong 1/96 scale contingent. Based in the Boston area.
Back to top.
---
Radio Controlled Scale Submarines
David Merriman's R/C Submarines - You have seen his work on TV and in the Movies, Dave makes a introductory video to R/C submarines that is getting good reviews. Also has parts and kits.
Back to top.
---
Online sources for research information
U.S. Navy Camouflage 1941 - 1945 - Run by John Sheridan, this is a growing site offering a lot of good information on the subject.
US Navy Historical Center - official history and photographs presented by the US Navy.
Curator of Navy Ship Models - nice pictures of those really great Navy models you see in museums around the US. Also, important technical papers. A very worthwhile site to read.
Haze Gray and Underway - Huge site, with lots of information and pictures of Navies of the last 100 years. Get comfortable before visiting this site - you will be there a while!
The Germany Navy - a good starting point for your Kriegsmarine research.
Combined Fleet - great resource for the Imperial Japanese Navy.
French Navy - official site.
Back to top.
---
Sites for smaller scale models
While not specifically for large scale models, these sites can prove a valuable gateway to other resources for research and modeling information.
Model Warships - Timothy Dike's large site covering plastic and resin ship model kits. Good message board too.
Steel Navy - One of the original model warship sites, with extensive galleries, including some large museum models. A very active message board too.
Back to top.
---
John Haynes - John built the 1/96 scale model of the Missouri that is onboard that museum ship, as well as model ships for the most prestigious military and maritime museums in the world. He also has a line of fittings available from The Floating Drydock.
Doug Huntzinger - mostly builds in smaller scales 1/200 to 1/300, but will discuss other projects. Doug's company has been around for some time now - perhaps you have seen his advertisments in the US Naval Institute's Proceedings
Fine Art Models - if you would like to purchase a beautiful cased museum quality model in 1/192 scale, this would be the first place to look. A great reference source too. Check out their fine Bismarck, Iowa and Titanic models, among others.
Twenty-First Century Models - Robert Okerholm makes beautiful warship models for both radio control and static display. If you are looking for a complete, 1/96 scale warship, shipshape and ready for deployment in all respects, I would recommend Robert's work.
American Marine Model Gallery - Here you will find mostly static models of the finest quality. They have a gallery in Salem, Massachusetts, or you can order a catalog of recent aquistions. They also offer a custom building service.
Back to top.
---
Please remember, your suggestions or additions are always welcome. Thank you!

Return to SeaPhoto

Return to Warship Models Underway
---
20271 Visits since June, 2001
Version 5.09 12/7/2021 This page maintained by Kurt Greiner